At IGI, we believe that the best cybersecurity tool ever invented is the human mind, which is why we are highlighting members of our talented team of cybersecurity professionals that work behind the scenes to solve problems and build solutions for our clients.
The right talent and expertise helps bridge the gaps left by a products-only approach or a strategy-only consultant. It's our people, helping your people, to protect your business from bad people.
In this regular series, you'll get to meet the team of CISOs, analysts, consultants, and cybersecurity leaders that make up the IGI Cybersecurity team.
Meet The Cybersecurity People™ at IGI:
Name: Matt Taylor
Role: National Account Manager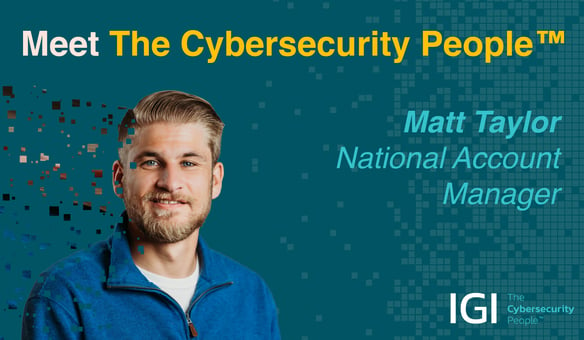 How did you come to find cybersecurity as a career?
I graduated College in 2014 with a degree in communications, and really had no idea what I wanted to do. During this time, I worked at Enterprise Rent-a-car, managed a Buffalo Wild Wings, and was really just trying to figuring out what I wanted to do with my career. After talking with one of my friends who worked in the cybersecurity industry and getting a better understanding of the industry as a whole, I really fell in love with the concept of Cybersecurity. I decided to go back to school and get a second degree in cybersecurity, and have not looked back since.
What's your favorite part about working in cybersecurity?
It is constantly evolving. There is a new problem that we have to solve every day.
What has been your craziest experience working in cybersecurity?
At my previous role, I was a consultant working for a Fortune 100 bank performing Third Party Risk assessments. During my time at this role, I was traveling to 4 to 5 cities a week, and within one year, was able to travel to 3 countries and over 30 states!
When you're not helping our clients protect their networks and data, how do you spend your time?
I enjoy Rock Climbing, Hiking, Camping and Skiing. Pretty much anything outdoors. I am also a massive New York Mets/New York Jets fan.
IGI has team members across the country, where do you live and why do you love it there?
I was born and raised in Ronkonkoma, NY, but currently live in Denver, CO. I love the fact that I am able to live in the city, and within an hour be in the mountains somewhere exploring!
Q: We're all spending a lot more time at home. What's your favorite thing you are reading or watching right now?
A: Bo Burnham's Netflix Special "Inside", and "Dave" on FX.
Q: Cats or dogs?
A: Dogs!
Q: If you could have any superpower, what would it be and why?
A: Flight. I love traveling, and would love to be able to go anywhere at any time (and not have to deal with traffic)!
Get to know Matt a little better in this short interview: