Cybersecurity professionals are continuously learning and honing their skills with real-life business scenarios
When I started in cybersecurity, the density of all the frameworks, regulations, technologies, and certifications was intimidating. I remember thinking it would be years before I mastered the lexicon. I quickly realized that because there is so much to learn and keep up with, everyone in cybersecurity feels this way to a certain extent, regardless of tenure.
The key to this industry is to embrace the inherent disorder and recognize the value of identifying the right expertise, at the right time, in the right place. Most of all, I've learned that cybersecurity takes teamwork among various experts applying their specialties.
Embrace the Chaos
The technology industry has always been laden with complex jargon. Wrap this with the frameworks and standards that shape cybersecurity, and it becomes even more challenging to stay ahead of this rapidly changing space.
The challenge is understandable when you consider that its influence also includes the dark underbelly of threat actors who misuse technology to exploit people for criminal gain. That introduces lexicons beyond just the engineering domain, pulling in the laws, rules, and regulations of states and nations, as well as those governing warfare and international diplomacy.
It's a complex domain to learn, teach, or manage. But there is hope. At IGI Cybersecurity, our experts are persistently applying, watching, reading, studying, and improving on all the "tools" of the trade. Those tools are the certifications, technologies, frameworks, and standards that enable us in protecting our customers, as shown here.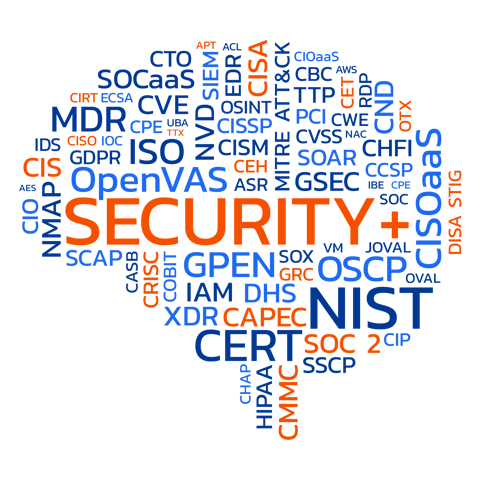 Security professionals learn to leverage the right tools of the security domain without being bogged down in or by them. These certifications, standards and frameworks inform and unify us against bad actors. That's why IGI's services and products employ all the mission critical tools of the trade that make our products and services better. That mission is securing your teams, your data, and your livelihood. We also use only the tools that actively make us better at our mission. That keeps us nimble, unified, and at maximum efficacy.
Focus on Continued Learning
The cybersecurity domain is complex—and the stakes could not be higher—which is why it's critical to distinguish the real experts from the pretenders. Watch out for "humble bragging"—or people touting long lists of certifications without any acknowledgment of the human dynamics of real expertise. The "real" experts can't help but to teach, share, and continuously learn about their domain, not just lean on their library of achievements.

My deepest expertise is connecting with people and uncovering their fundamental challenges to build linkages to the right solutions. I am the Director of Sales Programs at IGI Cybersecurity, and our team welcomes the chance to show you our greatest strength: relentless learning. What I mean by that is we deliver consultative solutions to your security problems by understanding your business, your risk, and your needs in terms of how our expert team will teach you to manage risk.
If the graphic above looks like dangerously opaque alphabet soup to you, we recommend you call in and work with an expert. We're here to help.
If you're looking for more ways to identify the right professionals who are focused on bettering their knowledge and growing their skills in cybersecurity, check out our Cybersecurity Pro Infographic, or the last blog post in this ongoing series.